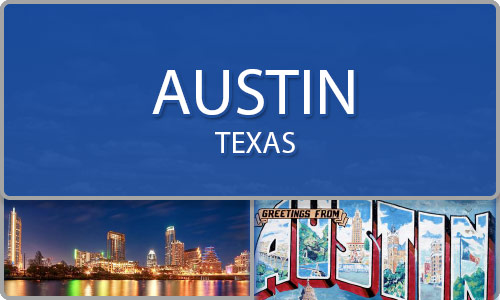 Fly NONSTOP to and from Austin (AUS) to Branson (BKG)
Airport Information:
Check in at the main terminal. Go to curbside ticket counter (no check-in inside) Check-in will be at the last curbside check-in at the end as you pull in. Check-in required 45 min prior to departure.
The flight will depart from gate 1 on the 2nd level all the way to the end, look for sign. Check the flight information screens because the departure gate is subject to change.
About Austin:
Catch a show, grab a bite, do some shopping and discover a whole lot more in Austin. Day or night, weekday or weekend, you can always find something playing in this live music city.
Austin is the Live Music Capital of the World, hosting over 200 venues with more live music concert halls per capita than anywhere else in the nation. This city features thousands of musicians from all types of backgrounds and styles. In the Live Music Capital of the world you can go to a show almost any time of the day, any day of the week.
While in the Live Music Capital visit the Texas State Capitol. See the history of the Lone Star State with a free guided tour or stop by and just walk around. This stone Capitol sits on the city skyline providing a testament to the freedom of all Texans.
If you enjoy outdoor activities Austin is the place for you. The city hosts over 200 parks with miles of hiking and biking trails. Hike the 10 mile stretch around the famous Lady Bird Lake and see the delightful landscape of the city and the spectacular views of nature.
For a real feel of Austin visit downtown, which according to locals is, "As Austin As It Gets." Downtown Austin offers something for everyone to do. See a live theater performance, go to a club, visit an art museum, and even shop at some of the hundreds of unique retail stores. Visit some of Austins most famous districts. South Congress, known more commonly as SoCo, is full of unique boutiques and local goods. The 2nd Street District is upscale and trendy offering plenty more fabulous shopping experiences.
Have a once in a lifetime experience, visit Austin today!
It's never been easier getting there than with flights on Branson Air Express!
Book your tickets on Branson Air Express
1.888.FLY.BKG1