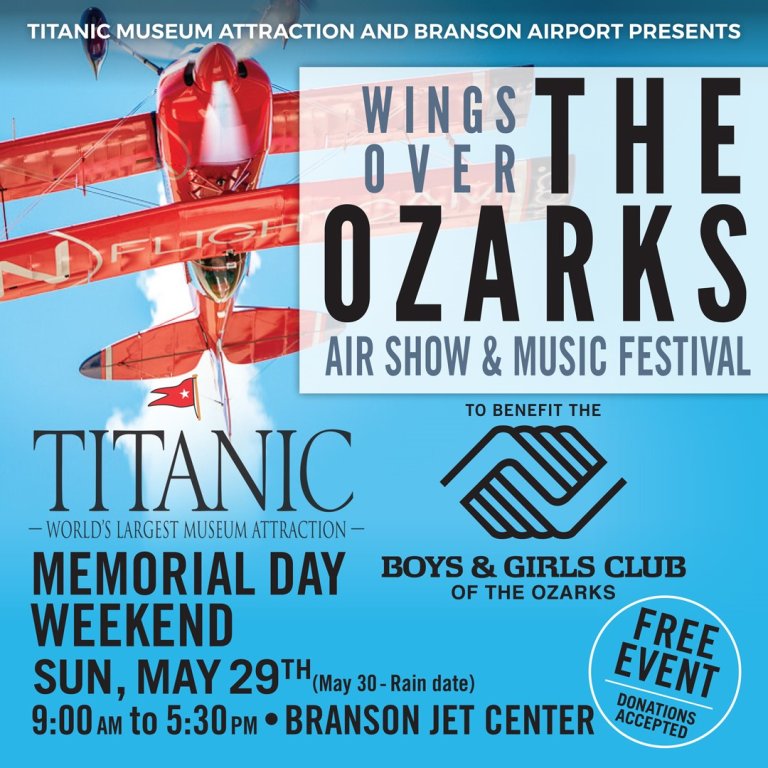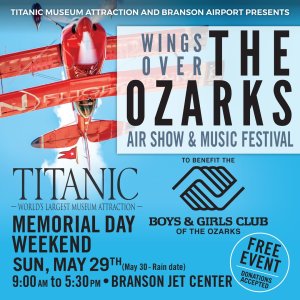 Air Show & Music Festival Set for Memorial Day Weekend
Proceeds benefit Boys & Girls Club of the Ozarks
Media Contact:  Stoney Hays   shays@bgcozarks.org   (417)335-2089
(BRANSON, MISSOURI – March 22, 2022) – The 2nd Annual Wings Over The Ozarks Air Show & Music Festival sponsored by Titanic Museum Attraction and hosted by Branson Airport will take flight this Memorial Day Weekend.  Join the Boys & Girls Club of the Ozarks for this FREE community event to benefit lives of area youth. (donations will be accepted)
Five hair-raising aerobatic shows will take the runway at Branson Airport, with festival goers being able to watch directly from the airfield. Premier 80's Tribute Band, Members Only, will perform favorite 80's tunes, with classic rock from Highway 13 and music from all genres with Pete & Dave other local artists lend their talent to the fundraiser.
Back by popular demand is a mini-jet air show featuring Tom Larkin in his SubSonex Mini Jet, one of the smallest jet powered aircraft in the world.  Completing the airshows will be pilots, Brian Correll in a highly modified Pitts S2S capable of turning your stomach upside down, even as you watch from the ground… and Kyle Franklin of Franklin's Flying Circus, who will be performing a special act, so be alert you won't want to miss the shenanigans!
As in the past, there will be patriotic celebrations and special tributes to members of our armed services, as well as a swearing in ceremony, expected to see over 50 new recruits join the military. Various Army experiences will be on hand such as, Robotics used in bomb diffusing, a STEM activity trailer and static aircraft and vehicles.
"Titanic Museum is always honored to support the biggest asset in our community – The Boys & Girls Club of the Ozarks. Everyday these young people come into the Club with a bag of luck, and it's up to each of us in the community to fill that young person's bag with experiences for their future. When they look up in the sky and see the fliers fly – if they want, they can do that someday," Titanic Museum President and Co-owner Mary Kellogg said.
"The Wings Over the Ozarks event is an opportunity for our businesses and community to come together to support children, our biggest asset in our community," Boys & Girls Club of the Ozarks CEO Stoney Hays said.
Activities throughout the day will include food trucks such as: London's Calling, Flat Creek, Taco No. 1, Sycamore Creek Pizza, Icy Bus and others… prize drawings, craft vendors, collector car show, boat displays, Branson Police SWAT and other Military and aircraft static displays…and a Beer Garden hosted by Wil Fischer Companies will be onsite.
The free event will be held Sunday, May 29th at the Branson Airport Jet Center, 130 Wright Brothers Road, Hollister, Missouri. Gates and activities open at 9:00 a.m. to 5:30 p.m.  Music begins at 10:30 a.m. with air shows starting at noon and performing on the hour throughout the day with the finale at 4:00 p.m.  Donations for The Boys & Girls Club of the Ozarks will be accepted at the event. (Rain date Monday, May 30th) Follow event parking signs / staff when entering.
Shuttles will be provided from parking lots to the event site.
Learn more at www.bgcozarks.org
Activities, Displays, Events are subject to change.
MISSION STATEMENT
The Boys & Girls Club of the Ozarks is dedicated to enabling all young people, especially those who need us most, to reach their full potential as productive, caring and responsible citizens.
Our Core Beliefs are to provide:
A safe place to learn and grow
Ongoing relationships with caring, adult professionals
Life-enhancing programs and character development experience
Hope and opportunity
About Boys & Girls Clubs of the Ozarks 
For over 25 years and through economic crises, tragedies and natural disasters, Boys & Girls Clubs of the Ozarks has been a constant in the lives of children and families in our community. The Boys & Girls Club of the Ozarks consists of three separate Units located in Taney and Stone Counties: Branson, Forsyth, and Reeds Spring.  Our programs are closely aligned with the goals of our respective school districts and are designed to improve academic achievement and expand enrichment opportunities for youth by maintaining high-quality, engaging programs and activities during after-school hours and summer months.  Additionally, our clubs are a part of a referral network for families in need of educational opportunities, services and resources that might not otherwise be available through state and federal assistance programs.
For more information about the Boys & Girls Club of the Ozarks, visit www.bgcozarks.org
Contact: Stoney Hays – Boys & Girls Club of the Ozarks shays@bgcozarks.org (417)335-2089