Missouri
BRANSON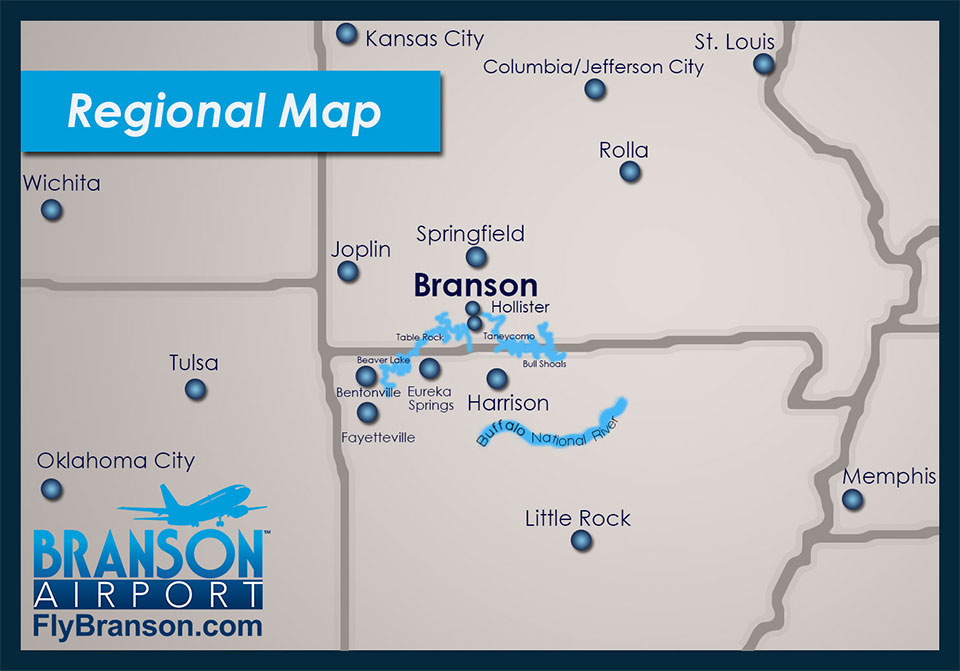 Branson, Missouri, nestled in the lakeside beauty of the Ozark Mountains, is America's affordable wholesome family entertainment capital that emphasizes fun, comfort and the feeling of being right at home. Featuring an array of live theaters and attraction venues and active recreational pursuits, the community embodies essential American values such as patriotism, faith, courage and generosity of spirit in a warm inviting atmosphere that is truly genuine and heartfelt.
Known as the "Live Music Show Capital of the World," Branson, MO, is truly a one-of-a-kind family vacation destination — and an incredible value — with more than 50 live performance theaters, three pristine lakes, 12 championship golf courses, an international award-winning theme park, dozens of attractions and museums, an Historic Downtown district, shopping galore, a full range of dining options, and a host of hotels, motels, resorts, RV parks, campgrounds and meeting and conference facilities.
Practically at the center of the United States, Branson is less than a day's drive for one-third of Americans, and with low-cost flights at the Branson Airport, getting to Branson has never been easier, or more affordable.
SPRINGFIELD
Springfield, just a few miles north of Branson Airport, offers a unique mix of large-city amenities and hometown hospitality, making it a perfect family destination for a metropolitan vacation or outdoor getaway. Beautiful scenery, family-oriented recreation and attractions, historic sites and more are available.
Enjoy shopping – and the sights – at the original Bass Pro Shops Outdoor World. Take in a Springfield Cardinals AA baseball game. Tour Fantastic Caverns, one of only a few ride-through caves in the world. Learn about Civil War history at Wilson's Creek National Battlefield. Feed the giraffes at Dickerson Park Zoo. Do hands-on science experiments at The Discovery Center. The list of things to do goes on!
When it comes to dining, Springfield is sure to please any palate. Try the city's signature dish, Springfield-Style Cashew Chicken, along with nearly any other cuisine you might be craving. With more than 1,000 restaurants in the city, you're sure to find what you want.
A trip the city isn't complete without a shopping excursion and you'll find plenty of places to fill your shopping bags. Battlefield Mall will keep you busy for hours, along with hundreds of unique shops throughout the city as well as the major retailers you expect in a city.
Visit www.SpringfieldMO.org or call 800-678-8767 today to receive free information that will help you plan your trip.
Arkansas
NORTHWEST ARKANSAS – Just minutes from the Branson Airport
With lakes as big as Beaver Lake, mountain top vistas and scenic beauty that define the Natural state, Northwest Arkansas is the signature region that finds itself as an international leader for business, education, sports, tourism, arts and culture.
Home of the Razorbacks and University of Arkansas, the region fosters entrepreneurial spirit that cultivated such companies as Wal-Mart, Tyson foods, and was foundational in inspiring leaders such a William Fulbright and William Jefferson Clinton.
Today, the arts of our uniquely preserved downtowns are alive in the top 50 arts destinations such as Eureka Springs with Thorncrown Chapel or Fayetteville's Walton Arts Center. More recently, On 11/11/11 the Northwest Arkansas region moved into national prominence in the art world with the opening of Crystal Bridges Museum of American Art in Bentonville.
BENTONVILLE
Situated in one of the fastest growing regions in the country, beautiful Bentonville is in the midst of a great transformation. Long known as the home of Wal-Mart, Bentonville has boomed in population, amenities and attractions over the last several years. A cultural revitalization of parks, public gardens, museums and restaurants is underway.
Bentonville is home to Wal-Mart and America's newest and most significant art museum, the Crystal Bridges Museum of American Art. www.crystalbridges.org
BUFFALO RIVER – National Park
The Buffalo River National Park Region was established to protect one of the few remaining undammed rivers in the nation. Nestled in the Northern part of the Natural State, the Buffalo River was recognized by National Geographic as one of America's most underappreciated parks.
This National Park offers adventures for people of all ages and abilities. Hiking, Canoeing, Kayaking, horseback riding, canopy tours, rock climbing, fishing, hunting, cycling, birding, wildlife viewing, ballooning, scenic auto tour routes and guided tours are just some of the adventures to be found.
Park Headquarters are located in the Gateway City of Harrison, Arkansas at 402 N. Walnut, Suite 136. The Buffalo Point Ranger Station is open year round 8:30a-4:30p (lower river district) Hwy 14/268, Yellville, AR (870) 449-4311. The Pruitt Range Station is open March-Sept (upper river district) Hwy. 7 South, Jasper, AR (870) 446-5373. Tyler Bend Visitor Center is open year round (middle river district) Hwy. 65, Marshall, AR (870) 439-2502.
EUREKA SPRINGS
Eureka Springs is the ultimate destination in the south-central United States for the arts, cultural and heritage traveler. Eureka Springs has been designated by the National Trust as one of America's Dozen Most Distinctive Destinations and has been named as a Preserve America Community.
Home of Thorncrown chapel, The Great Passion Play and a historic downtown that boasts of over 2000 buildings on the historic register with a rating of "National Significance", Eureka Springs hosts over 4,000 weddings and 900,000 visitors per year.
Adjacent to Beaver Lake and Table Rock Lake, and near the White River and Kings River, Eureka Springs is a historic jewel set in a recreational paradise. Located just 50 minutes South of Branson, Missouri, and 50 minutes East of Bentonville, Arkansas home of Crystal Bridges Museum of American Art, Eureka Springs is the perfect place to spend a quick weekend or a long week vacation.
FAYETTEVILLE
With its fun collegiate atmosphere, thriving business community, great outdoor activities and flourishing art scene, Fayetteville is the only place where the Razorbacks run wild!
It has been recognized by Forbes as one of the top towns in the U.S. in which to live and work, due to its plentiful shopping, beautiful hiking trails and wide variety of great restaurants and live music scene.
Fayetteville is home to the University of Arkansas and major employers such as Proctor & Gamble.
HARRISON
Stay and Play in Harrison – the opportunities for fun are endless!
Explore Harrison's downtown National Historic District, complete with shopping, attractions, eateries and wonderful Ozarks' heritage. You'll find a variety of retailers throughout the city from national chains to unique local shops as well as a range of dining and lodging options.
Join us for our exciting events and festivals. Harrison is home to a variety of events throughout the year including the Arkansas Hot Air Balloon Championship, Arkansas Fiddlers Convention, Annual Bluegrass Festival, Fire in the Sky- 4th of July Celebration, and our own local tradition, Crawdad Days Festival.
Harrison's close proximity to the Buffalo National River (America's first national river) provides easy access to exciting outdoor activities including hiking, canoeing, biking,elk watching and camping.
Harrison is located on U.S. Highway 65, just south of the family vacation capital of Branson, Missouri with its live music shows and theme parks. Harrison is also a short drive from the picturesque Victorian village of Eureka Springs, Arkansas, a town filled with artisans, boutique shops, and spas.
Discover all there is to see and do in the area by requesting your copy of the Harrison Attractions Guide. Also, check out the online deals and packages for the latest special offers to make your trip even more fun and affordable.
Visit Harrison… headquarters for your next trip to the Arkansas Ozarks.